Union Shipping Minister flags-off 'Most Awaited' Water Taxi Service in Mumbai
Mumbai, 17 February 2022: The most-awaited water-taxi service from Navi Mumbai to South Mumbai has been flagged-off via video conferencing by Union Ports, Shipping and Waterways and AYUSH Minister Sarbananda Sonowal today. The Chief Minister of Maharashtra Uddhav Thackeray virtually inaugurated the Belapur Jetty in the same function.
The water taxi project will connect the nearby locations at Nerul, Belapur, Elephanta island and JNPT with Mumbai. Besides, the comfort of water journey, the commuters will save on time and stress due to road congestion as also promotes eco-friendly transport. Water Taxi will connect for the first time, the twin cities of Mumbai and Navi Mumbai by fast and reliable commuting services. On the other hand, the Belapur Jetty project, which commenced on January 2019 and was completed by September 2021, has been developed under the Sagarmala Programme at a project cost of Rs 8.37 crore with equal funding by the Government of India and the Maharashtra state government.
Maharashtra CM Uddhav Thackeray said that, like the first train service in India started between Thane and Mumbai,  the country's first water-taxi service is also starting from Mumbai and it will be followed throughout the country in the future. Transportation is an important part of urbandevelopment, he said. Now water-taxi is being added to the existing transportation facilities such as flyovers, metros, extension of railways and subways in and around Mumbai, he added.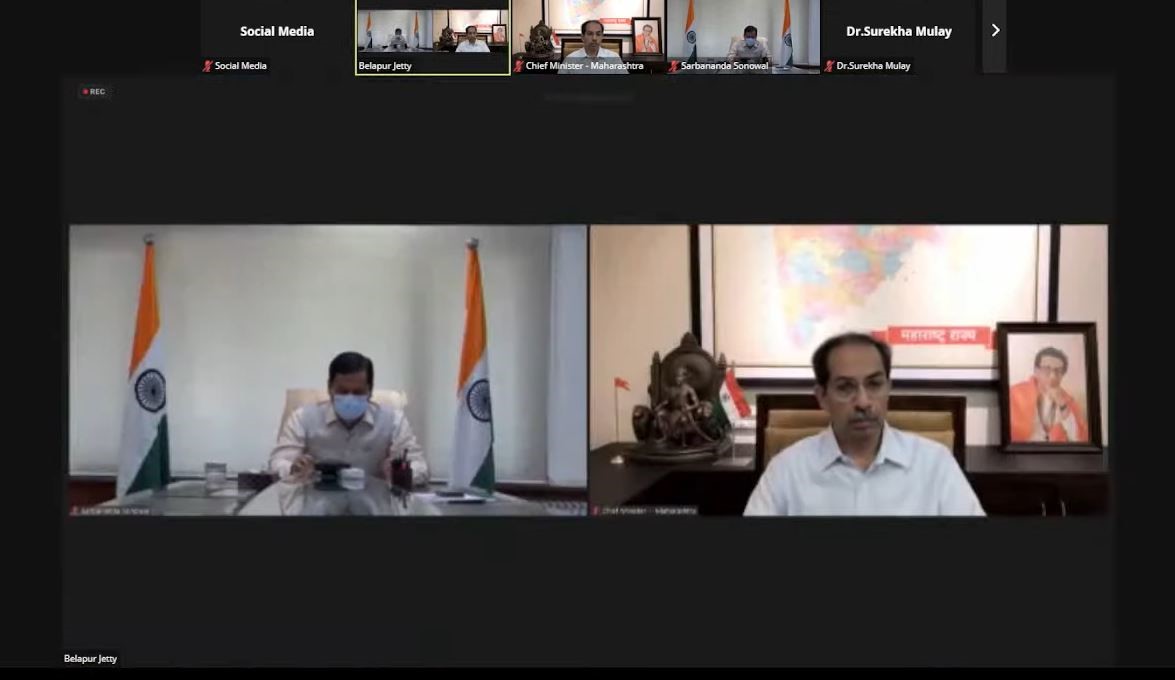 Addressing the physical event virtually, Union Minister Shri Sonowal said, "Today is an important day for all of us, particularly for the state of Maharashtra. With the support of the people of Maharashtra, we could complete the construction of Belapur Jetty. For this, I express my deep regards to the people and Government of Maharashtra". The Minister said that the Shipping Ministry is implementing various projects with the help of the coastal states, ports and the line ministries of the Sagarmala Project to facilitate the people of the country for a speedy growth of the economy. "Through Sagarmala, Navi Mumbai is getting a state-of-the-art jetty at Belapur". This project implemented by the Maharashtra Maritime Board has been completed timely despite constraints of COVID-19 pandemic, he mentioned.
The Minister said that the water taxi services between Belapur Jetty and Domestic Cruise Terminal at Mumbai Port will reduce travel time between Navi Mumbai and South Mumbai from around 1.5 hours to less than 30 minutes. This service will ease road traffic congestion and also encourage use of Mumbai Harbour for transportation, he added. "Additional jetties for water taxi and Ro-Pax ferries will be started depending on response to water taxi service", noted the Minister. The Shipping Minister said that many more jetties are being planned along Mumbai Harbour for both catamaran and ro-pax services. "The existing Ro-Pax service from Mumbai to Alibagh is already providing a huge respite for travellers". ROPAX movement between Mumbai Ferry Wharf and Mandwa has resulted in a positive impact with a reduction in travel time for passengers, quick and agile loading and unloading process of vehicles, he stated.
Sonowal said that many projects under the Sagarmala Project, including passenger jetties, coastal infrastructure development, skill development, Ro-Ro service etc. are being implemented in Maharashtra. "131 projects worth Rs 1.05 lakh crores have been identified for implementation in Maharashtra, by central & state agencies", he stated. Out of these 131 projects, 46 projects worth Rs. 2,078 crores are financially supported under Sagarmala programme of the Government of India.
Maharashtra coasts have huge potential for urban water transportation, which can become an alternative to rail and road transport modes, noted the Shipping Minister. More than 32 projects are being undertaken in port clusters in Palghar, Mumbai, Raigad, Ratnagiri and Sindhudurg, for upliftment of fishing community. "Four fishing harbour projects have been sanctioned for funding under Sagarmala", said Shri Sonowal. In Stage 2, expansion of Mirkarwada fishing harbour in Ratnagiri have been completed. Modernization of Sassoon Dock, development of Karanja in Raigad district and Anandwadi in Sindhudurg district are under implementation, added the Minister. Besides, proposal for modernization of Mallet Bunder is under active consideration.
India's growth will be faster under the PM GatiShakti National Master Plan, further stated the Union Shipping Minister.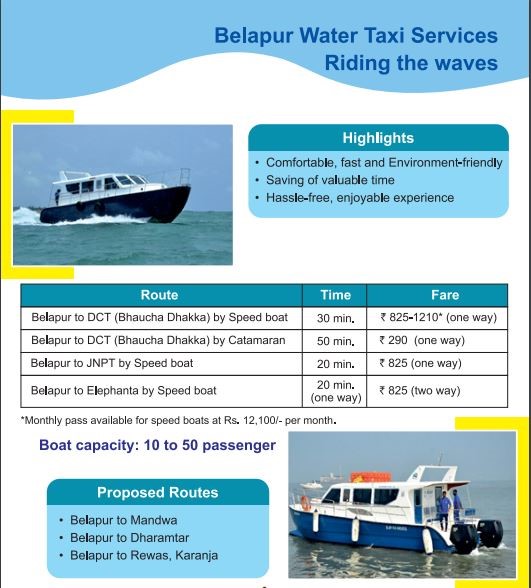 The dignitaries present at Belapur Jetty included Union Minister of State (Panchayati Raj) Kapil Patil, Maharashtra's Deputy CM Ajit Pawar, Maharashtra Government Ministers, Members of Parliament, MLAs, Mumbai Port Trust CMD Rajiv Jalota and Chief Executive Officer of Maritime Board Amit Saini.