Van Dhan Kendras in Maharashtra: Helping Transform Lives and Livelihoods
Mumbai, May 16, 2021
A group of a few dedicated boys led by an able leader, with enabling support from government organizations, has done wonders in Thane district of Maharashtra. The grassroots tribal organization to which the boys belong has been able to secure orders worth Rs. 1.57 crore for the medicinal plant Giloy. The orders include those from corporate bigwigs like Dabur, Baidyanath and Himalay, among others.
Based in Shahapur in Thane, Adivasi Ekatmik Samajik Sanstha is an organization of youth who have been striving to solve problems of the tribal community in the area. Giloy, for which they have received the big orders, is known as Guduchi in Ayurveda, and is used in medicines used to treat fevers such as viral fever and malaria as well as diabetes. It is used in extract form, powder form or cream.
Humble Beginning, Given Wings by TRIFED
The boys' journey started when Sunil Pawar, a 27-year-old youth from the Katkari (कातकरी) community, along with his team of 10 -12 friends, started helping out the Katkari tribals at revenue offices in his native place. Katkari is one of the 75 Particularly Vulnerable Tribal Groups, as per the classification by Ministry of Home Affairs, Government of India.
Sunil has since proved to be a champion entrepreneur. He now receives giloy from as many as 1,800 people. The support received from TRIFED, under the union Ministry of Tribal Affairs, has been instrumental in enabling him to scale up his venture. Under the assistance from TRIFED, Rs. 5 lakh was given to each of the six Van Dhan Kendras in the region. Moreover, when Sunil needed working capital to execute orders from big companies, TRIFED chipped in with additional support of Rs. 25 lakh.
Journey from One Kendra to Six Kendras
"We have six Kendras in Shahpur. Processing is going on in full swing in all of them. It is going on with perfect rhythm with all the team working in perfect sync. It is very heartening to see 1,800 tribal people earning their livelihood, that too during the COVID lockdown. We have orders worth almost Rs. 1.5 crore, and there will be even bigger order from Dabur." Pawar was beaming with pride and all smiles, as he updated PIB about the community's achievements.
"Companies need raw material. And since they buy in bulk, companies get a lower price from us than from elsewhere. However we have also started making powder of it and selling it at a higher price of 500 rupees a kilo. 10 times the cost of its raw form." Sunil further informed.
Giloy for today, Giloy for tomorrow
While collecting giloy from the forest, Sunil and his team are also careful about sustaining the forests for future as well. They have 5,000 saplings of giloy ready for plantation. They plan to plant 2 lakh of them in the coming days.
Shabari Adivasi Vitta Mahamandal
Shabari Adivasi Vitta Mahamandal under Government of Maharashtra is another organization which has been working for tribal welfare. "Soon, we will create a cluster of five Van Dhan Kendras with a federation to meet the rising demand. 40 more Kendras have been approved already. When they become operational, they will provide employment to 12,000 Katkaris (each Van Dhan Kendra supports 300 people)". Managing Director Nitin Patil tells PIB.
Pradhan Mantri Van Dhan Yojana provides working capital for these SHGs. So they don't have to sell their produce in distress, moreover they can immediately pay tribals for produce they have picked up, this greatly helps tribals in having steady income, informs Patil.
Checking migration through giloy, goats and bricks
Nitin Patil further informed that options other than giloy too have been planned, in order to ensure round-the-year employment for the tribal community. "Though collecting giloy and sending to companies is good business, it is seasonal in nature and can be done only for 3-4 months in a year. The Katkaris migrate to Gujarat, Karnataka and Raigad to work in brick kilns. Hence TRIFED is planning to gainfully employ them in Goatery business for the rest of the year. We will provide them around 70,000 – 80,000 rupees each to buy 5 goats and one buck. We have tied with an NGO which will do the handholding in the form of training. Training is necessary as death rate is high among goats and cleanliness of the shed is very crucial for their survival."
TRIFED induced selected beneficiaries to build shed for goats on their own, to find out the willingness of beneficiaries to rear the goats. However, now TRIFED has tied up with Employment Guarantee Scheme officials to raise funds for building sheds.
"We select 4-5 beneficiaries in a village. It creates demonstration effect as well as makes the job of handholding easier for NGOs. After successful implementation of this, we will also venture into poultry. Then poultry, goatery and forest produce will make the gainful employment of Katkaris possible round the year." Feed, medicines and insurance of goats is arranged by Van Dhan Kendras, informs Patil.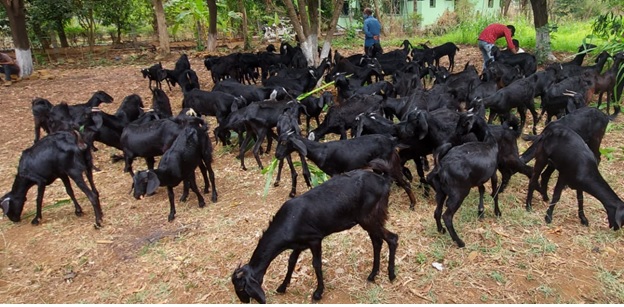 Black Gold: Rope for life
NGOs also play a crucial role in empowering the tribals and helping them become self-sufficient. Eshein Agro Livestock is one such NGO, which has been shouldering the responsibility of training and handholding the tribals in goat-rearing projects. This project called "Black Gold; Rope for life" started when Dr. Nilratan Shende witnessed hunger and starvation death in Melghat during his Ph.D and decided to set up an NGO. And thus was born EAGL (Eshein Agro Livestock).
Dr. Shende was quite elated to narrate the story to PIB. "Our focus is on increasing the purchasing power of the tribals. We consider livestock as a coping mechanism for them. What started with with personal savings and five families in 2012 has gone on to enrich lives of 8,000 families so far.  Government bodies like Mazgaon Dockyard Ltd. helped 200 tribal families with funds worth Rs. 1.3 crore. Tribals consider the rope in the neck of goat as their lifeline. They consider the black goats as black gold in their life ( काळ सोन  जीवनाची दोरी)."
The biggest challenge EAGL faced was the legacy occupation of the tribals; they had been working in brick kilns for more than 30-40 years, said Dr. Shinde. "We had to wean them away from that work. Now, they have more than 3-4 lakh worth livestock in their homes."
By creating a successful goatery business model for tribals, EAGL wants to create a model which can be employed on a large scale, something which can be copied in other parts of the country too, after making suitable local adaptations. "Sustainability and charity is our motto. We want to convince people that they need not migrate for livelihood", says Dr Shende.
Selection of the beneficiary, doorstep facility of veterinarian, insurance, etc. are provided for risk mitigation. Robust monitoring of the whole project is done by EAGL. Dr. Shinde explains how their interventions have benefited the tribals: "We visit them before they go out for grazing. It has improved their confidence, working conditions, health indicators and asset ownership."
This shows how enterprising tribal youth can not only earn livelihood but can create a prosperous life for themselves and also help create a sustainable and healthy future for others.
Contact Details for officials and NGOs
Shri Nitin Patil MD, Shabari – 9324829136
Dr. Nilratan Shende –  8879798755
Shri Sunil Pawar – 7378956592