VIGYANIKA is a Platform where Science Communicators discuss Strategies and Innovative ideas: H.J. Khan, NISCAIR
New Delhi, 15 Dec 2020: The India International Science Festival (IISF) 2020 would be based on the theme 'Science for Self-reliant India and Global Welfare' and would focus on areas like history of Indian science, philosophy & science, agritech, clean air, energy, water, waste, and sanitation, biodiversity, and sciene diplomacy, Secretary Department of Science and Technology (DST) Professor Ashutosh Sharma highlighted at a Curtain Raiser and Outreach program of the 6th India International Science Festival (IISF).
"Atmanirbharta or self-reliance is deeply cultural, made up of three pillars of Atmavishwas, Atmasamman and Atmachintan and festivals like IISF have to convey these cultural aspects very strongly," Professor Sharma pointed out at the curtain raiser programme jointly organised by Indian Institute of Geomagnetism (IIG), Navi Mumbai, an autonomous institute of DST, Government of India and Vijnana Bharathi (VIBHA).
Prof. Ashutosh Sharma shared the glorious journey of IISF- a brainchild of the Union Minister of Science and Technology, Earth Sciences and Health and Family Welfare, Dr. Harsh Vardhan, in 2015. He added that it was organised by DST at IIT Delhi with over 5 lakh footfall that year and has been growing very fast since then.
"IISF is a holistic projection of Science & Technology and Innovation as well as scientific temper involving primarily the young minds and a very wide stakeholder base ranging from students, innovators, craftsmen, farmers, scientists, technocrats, people from politics and so on. It shows that science does not work in silos and presents the picture of science in motion," he added.
"We have learned the importance of resilience, adaptability, coexistence and especially the importance of understanding science from the pandemic and IIG and VIBHA will work on these learnings to bring awareness about science, technology, engineering and mathematics to the common people," said SuhasPednekarVC, University of Mumbai while addressing the curtain raiser programme.
Prof. D.S. Ramesh, Director IIG, said, "IISF 2020 with the theme Science for Self-Reliant India and Global Welfare very aptly reflects India's mood of overcoming adversity and its spirit of togetherness. Events like IISF truly highlight our country's ancient and modern science & technology and reflects the national ethos like never before."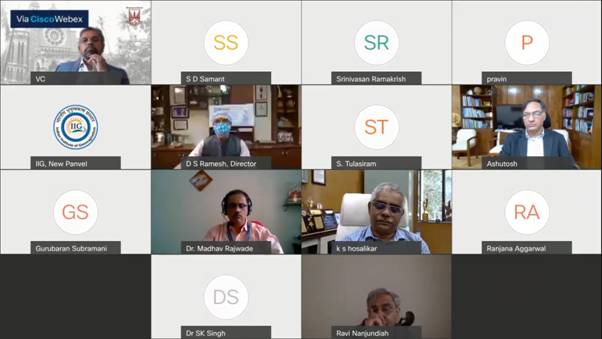 At another event, a webinar focused on 'Vigyanika' was organized by the Department of Library and Information Sciences, Haryana Central University, Mahendragarh. Speaking on the occasion, Shri Hassan Javed Khan, Chief Scientist of National Institute of Science Communication and Information Resources (NISCAIR) affiliated to the Council of Scientific and Industrial Research (CSIR), editor of the popular science magazine 'Science Reporter' and famous science communicator, said, " Social distance is an important tool to combat novel coronavirus infection. This is the reason why these days important programs are being organized virtually. The International Science Literature Festival (IISF) 'Vigyanika' – 2020, which has left an indelible mark in the field of science from the last few years will also be organised virtually from December 22 to 24 due to the pandemic".
'Vigyanika' is an important component of IISF. The main objective of this science festival is to showcase India's scientific achievements and promote scientific outlook in society. Shri Khan said that this is the largest virtual science festival and more than one lakh participants are expected to attend it.This year the mega event will focus on the role of science in building a self-reliant India. Huge number of people like scientists and technologists, industrialists, researchers, teachers, craftsmen, farmers, students and innovators will participate in the event.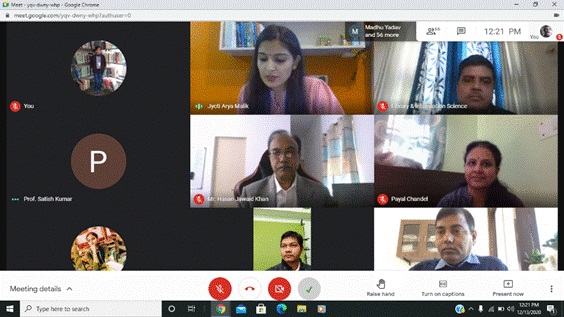 Shri Khan said that the objectives of organizing 'Vigyanika' is promoting the development of scientific awareness in the society, promoting scientific literature and generating interest in science among the younger generation. He also told that science exhibition, interviews with experts, discussions, lectures, group discussions, competitions, research paper presentation, science drama, science poets conference, book fair, dialogue with authors and science communicators, and science workshops are important part of this event. At the same time, issues related to science communication and the innovative strategies needed for effective science communication will also be discussed, so as to strengthen the interrelationships between science and society.
Speaking on the occasion, Prof. Satish Kumar, Dean of the School of Interdisciplinary and Applied Sciences, Haryana Central University, said that "Science in India has been widely used for social development. Space science and agronomy are prime examples of it. There has been intervention of science in basic subjects like improving the lives of people, food safety and health security."
Convener of the webinar, Professor Dinesh Gupta,  Dr.PayalChandel and Dr. Pawan Kumar were also present in the event.
Information on various activities related to the Science Festival and registration of partners is available on the IISF website www.scienceindiafest.org.